Fri 14 Aug 2009
Our MoreBusiness.com site has opened the doors to the State Business Licensing Center, which is a free online resource that helps entrepreneurs in all 50 states quickly and comprehensively access information about their state's specific business licensing requirements.
Here is our full news release:
To help entrepreneurs effectively navigate their states' business licensing requirements, MoreBusiness.com has released its comprehensive State Business Licensing Center. This free online resource has compiled traditionally piecemeal regulations regarding state licensing into one convenient and comprehensive center. Entrepreneurs in all 50 states can now quickly and easily access all the information they need to start a business in their specific state.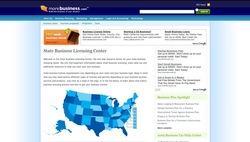 When starting a business, it is important to be aware of the license and permit requirements outlined by the state in which the business will be operated. Each state government requires varying licensing requirements depending upon your business type. This new resource is designed to be a one-stop center to help entrepreneurs in all states find the important business licensing information that they need.
When users click on the state in which they plan to conduct business, they will find valuable information that will guide them through their state's specific requirements. This includes important state-specific points to remember, steps to securing a business license in the state, local sales tax information and other pertinent resource links.
"When you start a business, there are so many facets to consider. Entrepreneurs should not be spending hours researching piecemeal information on licensing requirements - but instead should be focusing on the core of their startup," explains CEO Raj Khera. "The State Business Licensing Center was created to compile important licensing information and resource in one convenient place for entrepreneurs to easily access."
The licensing center also includes links to apply for licenses and permits online, register your business trade name, and obtain your Employee ID Number from the IRS. With MoreBusiness.com's new resource, there is no need to search around the internet to piece together all the information pertaining your state's business license requirements. The State Business Licensing Center outlines in one condensed resource what every entrepreneur needs to license their business.
This new resource center can be found at: http://www.morebusiness.com/state-licensing-center
Comments
intellectual property valuation — February 16th, 2010 at 7:01 am

Thanks !! very helpful blog! Is this your only blog on this subject?

Josefine Boisse — February 25th, 2010 at 8:43 am

Hi..I am reading your page for a few days now is there any way to subscribe by email

Raj Khera — March 3rd, 2010 at 6:16 pm

Hi, please visit this link: http://www.mailermailer.com/x?oid=00007m